Tuesday, June 17, 2008
6:00 PM
By Tom Still

SAN DIEGO -- On a day when the governor of Maryland proposed a $1.1 billion biotechnology initiative and the governor of Massachusetts signed a similar $1 billion bill into law, Wisconsin Gov. Jim Doyle said there's plenty of room for major research states to work collaboratively on breakthroughs involving stem cells.

"This is not a case of one state is going to win and another state is going to lose, or that one state is going to beat all the other states," Doyle said during a news conference at the BIO international convention in San Diego.

Rather, Doyle explained, the collaborative and often interdiscilpinary nature of research means scientists from across the country and around the world are often working on common problems, and advances in one laboratory may help propel breakthroughs elsewhere.

Doyle said Wisconsin's investment in the biosciences is "on a par" with what's happening in other leading states, especially when it comes to providing the basic tools researchers need. He referenced the $150-million first phase of the Wisconsin Institutes for Discovery and other UW-Madison initiatives such as a new interdisciplinary research center tied to the UW Medical School.

"It's on the same scale with Massachusetts and California -- only we didn't need a referendum to get it done," Doyle said.

Doyle spoke during a news conference also attended by Bernie Siegel, director of the Genetics Policy Institute and the founder of the World Stem Cell Summit. This year's summit will be held in Madison Sept. 22-23 and will feature some of the world's leading researchers, including Wisconsin's Dr. James Thomson.

"I was cold when I visited (Madison last winter), but what I saw burning brightly was your research community," Siegel said. The conference is expected to attract up to 1,000 stem-cell experts from across the world to Madison, which is also home to the WiCell Institute and the National Stem Cell Bank.

Danny Heumann, a member of the Genetics Policy Institute board of directors, praised Wisconsin for taking the lead in stem-cell research. Heumann was partially disabled in an automobile accident 23 years ago, and has become an advocate for stem-cell research that may lead to therapies for spinal cord injuries and other traumatic injuries.

Doyle also predicted that Sen. Barack Obama, the presumptive Democratic nominee, will lift President Bush's August 2001 ban on federal funding for human embryonic stem cell lines not produced before that date.

"I see no reason why Barack Obama should abide by restrictions (on use of stem-cell lines) that are tied to an artificial date when President Bush wanted to make a speech," Doyle said.

Doyle did not speculate on what Sen. John McCain, the presumptive Republican nominee, might do about federal funding for stem-cell research. However, some of McCain's votes and statements indicate he would also loosen current restrictions.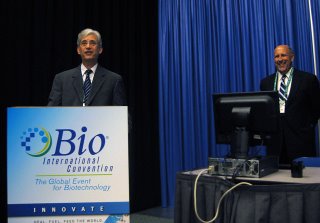 Bernie Siegel, founder and executive director of the Genetics Policy Institute, speaks at the 2008 BIO International Convention as Wisconsin Governor Jim Doyle looks on.



###

Labels: BIO2008
---